I still own two Lisa Lisa and Cult Jam with Full Force albums – and I'm proud to admit it.
For one thing, amid all the 80s era slag that has dwindled into irrelevance, a lot of their material still sounds fresh today. Maybe because the group (actually, the groups) managed to capture many of the early elements that would be embraced by hip-hop and rap. Whether you like those genres or not, that kind of influence is a formidable achievement.
But that's not really the point of the post. Because this is one of my "Stories From the War" – an anecdote from my halcyon days as a music business flunkie.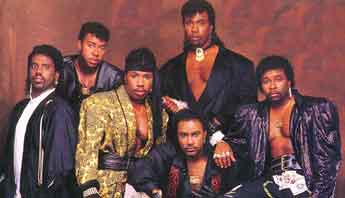 As I stated in several earlier posts, my first job out of college in the summer of 1986 was as a production assistant for U-68, an extremely low budget New York City TV station that broadcast music videos over the air when we weren't playing infomercials. Ever see that Weird Al Yankovic movie "UHF?" Well, the station was a lot like that.
Occasionally, artists would visit our remote Newark, N.J. studios for interviews and the privileges of "hosting" a show, where an hour of music videos would be interspersed with their comments about them. Stil enjoying the success of their big hit "I Wonder If I Take You Home," Lisa Lisa and Cult Jam with Full Force were one of those bands.
The whole afternoon went very well. Lisa Lisa (Real Name: Lisa Velez), the two members of Cult Jam (Alex Spanador Mosely and Mike Hughes) and the six members of Full Force (Paul Anthony, Bowlegged Lou, B-Fine, Baby Gerry, Shy Shy, and Curt-t-t) were very pleasant and polite throughout the whole experience. Certainly not as boisterous as the Ramones,
who would visit us a few weeks later.
As an added bonus, I did something that would be the envy of 21-year-olds all over America: I was the one who pinned the clip-on mike on Lisa-Lisa's low-cut blouse. You don't soon forget that experience. Could any of classmates at Georgetown University who went on to big careers in Wall Street and the State Department say that?
Anyway, after it was all done, the musicians had some time to kill. The guys from Full Force and Cult Jam wanted to see our library of music videos so they could watch a few of them in our basement. So I brought them downstairs and into the room that held all of our individual tapes.
So what videos did they pull out to watch?
Not Atlantic Starr, Kurtis Blow, Run D.M.C. or any of the other R&B acts all over the airwaves back then.
Nope. They wanted to watch every single Jimi Hendrix video we had in our collection. Never mind that we didn't have a whole lot of them. (We were modeled on the MTV of that time frame, after all), but what we had pleased them no end. They watched them with amazement, pointing out all the great things Jimi was doing with his guitar and enjoying the educational experience thoroughly.
Needless to say, I gained a new level of respect for Full Force and Cult jam that day. Full Force (which was more of a production unit than a band) went on to produce James Brown, Samantha Fox and even the Backstreet Boys in later years.
And as he got older and more wise about the music he was istening to, Rob gradually got rid of the promo copies of the Shannon, Exposé, New Edition and S.O.S Band albums he had received over the years.
But he kept the Lisa Lisa albums.
Not only is the music good. But so are the people behind it.

Play "I Wonder If I Take You Home" by Lisa Lisa and Cult Jam with Full Force
Play "Lost In Emotion" by Lisa Lisa and Cult Jam with Full Force
As a bonus, I just came across this bit of "history" on YouTube. No, not the interview, but a series of PSA outtakes Marshall Crenshaw, Meat Loaf and Wendy O. Williams did for the station, a year before I arrived. They give you a sense of what fun this station was – and how much I miss it.