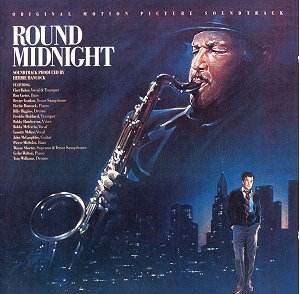 As you might remember, one of the interesting bits of trivia from last year's
Across The Universe
was that many of the vocals for the film's Beatles songs were recorded by the actors on the set.
Well, try this on for size: An entire film with a soundtrack that was recorded while the cameras were filming.
That would be
Round Midnight
(1986), an often forgotten masterpiece from French director Bernard Tavernier. Taking its title from the classic Thelonious Monk composition (more properly named
'Round Midnight
), the movie stands out as one of the finest films ever made about jazz and the musicians who played it.
Based on the later life of pianist Bud Powell (and to a lesser extent, Lester Young), the film recounts the friendship between an aging African-American saxophonist named Dale Turner who is befriended while in Paris by a French jazz aficionado. Their relationship helps Turner, at least for a time, overcome alcoholism and the many other challenges in his life.
It's a beautiful and gentle film that I highly suggest you rent, even if you are not a big jazz fan. The sweet relationship between Turner (played by jazz great Dexter Gordon in one of his only film roles), Francis Borler (François Cluzet) and Francis' young daughter Bérangère (Gabrielle Haker) permeates every touching moment in the film. It's a real treat. The performance by Gordon, who received an Oscar nomination, has been denigrated by some of his peers as Gordon simply playing himself. But you know what? Sometimes, there's nothing harder for someone to do – particularly someone not used to having a movie camera stuck in his face.
As good as the film is, the music may be even better. Herbie Hancock won the Oscar for his score, but the real stars are an all-star line-up of jazz heavyweights. Besides Hancock himself on piano, there's Freddie Hubbard on trumpet; Wayne Shorter on saxophone; Chet Baker playing trumpet and singing an achingly beautiful "Fair Weather;" Bobby Hutcherson on vibes; John McLaughlin on guitar; Ron Carter on bass; and Tony Williams on drums, among others. Most also appear in the film in vital roles as Turner's fellow musicians.
I have many favorite tracks on the album. Hancock and Gordon's version of "The Peacocks" ranks up there with the Stan Getz and Jimmy Rowles original. The haunting "Bérangère's Nightmare" really sets the mood during one of the film's most riveting scenes. Actress and vocalist Lonette McKee (
The Cotton Club
) sings a smoky "How Long Has This Been Going On?" that complements the proceedings.
Yet, today, I've chosen to spotlight two songs that feature Bobby McFerrin's wordless vocals: "'Round Midnight" and "Chan's Song (Never Said)," the Hancock original that closes the movie. Of the latter, I've got to say that the inherent loveliness of this song gets me every time. For another great version of the song (with lyrics), I suggest finding Dianne Reeves' rendition on her 1991 debut.
Play "'Round Midnight"
Play "Chan's Song"
Chan, by the way, is a reference to Chan Parker, wife of the late jazz saxophonist Charlie Parker – a tragic figure in his own way whose life has been captured on celluloid as well.
But that's for another Sunday …