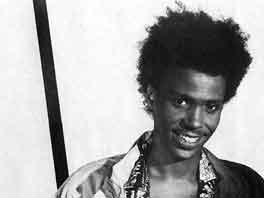 George Benson's easy transition from respected jazz guitarist to multi-million dollar pop star raised a lot of eyebrows.
Sure, there were a lot of jazz purists who looked down on Benson for having "sold out." But it inspired several others to make a similar jump – with differing results.
Bernard Wright was a 16-year-old keyboard prodigy from Jamaica, Queens when he recorded '
Nard
(1981) on GRP Records. Most of the material on the album was was what could either be described as funk jazz or Gil Scott Heron-lite. But he had one shining moment on the album that displayed his potential as a straight-ahead jazz pianist: A respectable version of Miles Davis' "Solar" with bassist Buster Williams and drummer Roy Haynes.
By the next few albums, however, Wright had abandoned jazz entirely to focus on r&b. And it almost paid off. Signed to Manhattan records, then a new Blue Note subsidiary focusing on crossover artists, his 1985 release Mr. Wright included his biggest hit, the utterly infectious "Who Do You Love." The single rose to the No. 6 on the R&B charts and pushed the album to No. 25 on the same charts. But two more albums later, Wright was forced to the sideline as a session musician who has played with the likes of Chaka Khan, Roberta Flack and Miles Davis.

Play "Who Do You Love" by Bernard Wright
As always, since this was the 80s after all, I give you the video.
Born in South Africa, Butler also played the hybrid of jazz and r&b that was popular in the 80s. But it's definitely fits more into the smooth/AC genre – especially his 1987 hit "Holding On." Despite the fact that the song was designed to appeal to Reaganite yuppies stuck in traffic on their way to work, there are some nice touches in this song: Butler's Benson-like vocalizing accompanying his pretty guitar playing, a nice backing choir and (you should know me by now) the ever-present horns.

Play "Holding On" by Jonathan Butler
Butler has continued to enjoy a successful solo career, recording about a dozen albums over the last two decades – including an album recorded live in his native South Africa last year.